A BLOCKBUSTER OF A NOVEL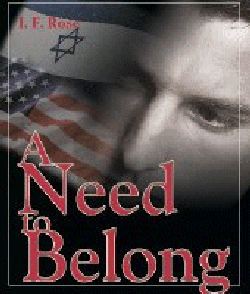 A NEED TO BELONG
by I.F.ROSE
---
THE FIGHT TO BELONG:
From birth, David Rozinsky fought to belong, first the struggle within his dysfunctional family--a mother who hated him and favored his twin brother, and a milquetoast father who obediently kept his distance--then, as he matured, the struggle for acceptance in the land of his birth, only to find that he must pay for its undeniable freedoms and creature comforts with barbs of intolerance and a threatened loss of identity.
THE WAR YEARS
In the army David fought for acceptance as fiercely as he fought his way up the boot of Italy--Cassino, Anzio, The Apennines, a morass of mud and blood--his battle experiences maturing him from a seventeen-year-old boy to a man.

REACHING FOR THE STARS
Years later, as an engineer testing the huge Atlas moon rockets, working to send the human race into the infinite, he could stand on the test gantry, look up at the stars and have every right to wonder at the meanness of man and question whether mankind was ready for such an undertaking.

THE DECISION
Pinpricks of hate molded him and his family, finally driving them to despair, driving them to a decision that they never thought they'd need make in their lifetime.
---
USING THE BOOK TITLE, AUTHOR, OR THE ISBN NUMBER: 0595090273, THIS BOOK MAY BE ORDERED FROM ANY BOOK STORE OUTLET-
OR CLICK THE FOLLOWING ONLINE SITES:

OR CLICK:BOOKSAMILLION.COM
view excerpts